Webinar: Technology & Seniors Housing – How to Achieve Smart, Streamlined & Standardized Business Systems
September 6 @ 2:00 pm

-

3:00 pm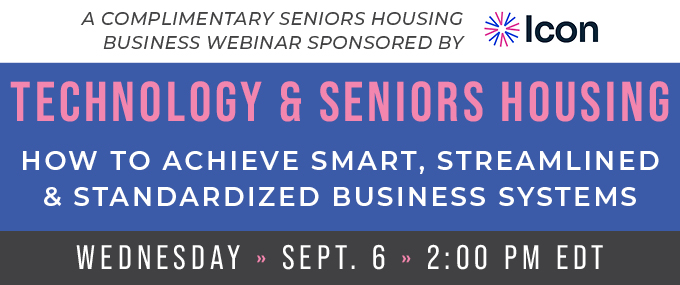 How can seniors housing owners and operators optimize their tech stack to meet resident and family expectations as well as attain operational efficiency?
On Wednesday, September 6, from 2:00 to 3:00 pm EDT, Seniors Housing Business will host the webinar, "Technology & Seniors Housing: How to Achieve Smart, Streamlined & Standardized Business Systems," exploring the value and ROI of several senior living-specific tech solutions and the opportunity costs associated with inefficient or redundant systems.
The webinar will focus on the importance of well-defined, specific goals to guide technology implementation strategies within senior living communities. Panelists will share best practices related to completing an effective tech audit and designing a roadmap, along with tips on how to convert senior living technology from a cost center to a revenue driver.
Key Takeaways:
How to justify the seemingly overwhelming costs associated with having multiple technology solutions — and what decisions and priorities should top the list.
Pros and cons of a universal, enterprise-wide tech stack and how to overcome obstacles associated with streamlining systems.
Common trends, practical strategies and real-world examples of how senior living organizations have reduced spending, delivered proven ROI and positioned their staff and communities for success.
Speakers Include:
Ryan Galea, CEO, Icon
Amber Bardon, Founder & CEO, Parasol Alliance
Teryn Waldenberg, CFO, Immanuel Lutheran Communities
Diana Engle, VP of Health & Wellness, MBK Senior Living
This webinar is complimentary, thanks to sponsor Icon. Icon is the result of VoiceFriend's best-in-class communication technology and Caremerge's leading engagement solutions joining together under a mutual mission — to equip organizations that support seniors with the tools needed to ensure older adults and providers have the best experience possible with technology. It's Icon's mission to make the aging experience iconic with the all-in-one communication and engagement software for organizations that support seniors.
This event is hosted by Seniors Housing Business magazine and produced by the company's InterFace Conference Group. For more information, contact Rich Kelley at 914-309-6954 or Eric Goldberg at 404-832-8262 x 137.
For a full list of InterFace Conference Group webinars, click here.
France Media Inc. is publisher of Student Housing Business, Seniors Housing Business, Southeast Real Estate Business, Texas Real Estate Business, Northeast Real Estate Business, Western Real Estate Business, Heartland Real Estate Business, Southeast Multifamily & Affordable Housing Business, Texas Multifamily & Affordable Housing Business, Western Multifamily & Affordable Housing Business, Midwest Multifamily & Affordable Housing Business, and Northeast Multifamily & Affordable Housing Business, Shopping Center Business, California Centers, and Retail & Restaurant Facility Business.
For more information about all of the commercial real estate magazines, websites, and newsletters published by France Media Inc., click here.