Webinar — Inside the Resident Room: In-Unit Data Helps Seniors Housing Operators Improve Safety & Increase Profitability
October 17 @ 2:00 pm

-

3:00 pm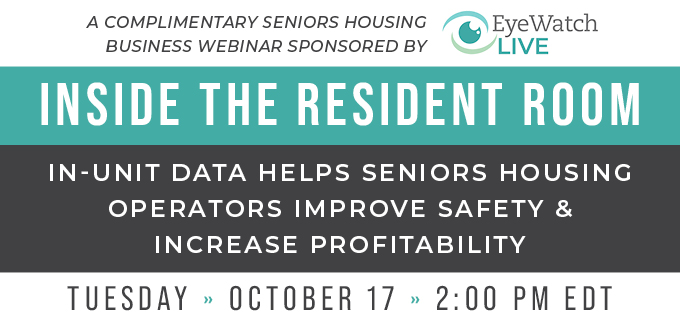 Finding meaningful data in residents' rooms is a relatively recent development that's starting to pay dividends for seniors housing operators.
Overnight monitoring – from tracking sleep patterns to preventing falls – is helping operators understand their residents better while leading to longer resident stays and better health outcomes. Resident in-unit data can also be used to combat staffing challenges.
During a Seniors Housing Business webinar on Tuesday, Oct. 17, a panel of experts will discuss how Artificial Intelligence (AI) and Human Intelligence (HI) integrate to help seniors housing operators understand what's happening inside resident units.
The webinar "Inside the Resident Room: In-Unit Data Helps Seniors Housing Operators Improve Safety & Increase Profitability," is taking place from 2:00 – 3:00 pm EDT. Seniors Housing Business is hosting the broadcast; EyeWatch LIVE is the webinar sponsor.
Panelists will discuss the following during the high-level industry discussion:
Data presentation: break down of the average number of falls/incidents avoided
How data around sleeping patterns and staff checks ties into resident retention and decreasing operational costs
Enhancing resident safety and quality of life
This webinar is sponsored by EyeWatch LIVE, which offers the only Live Virtual Nurse monitoring system driven by AI+HI that can detect and prevent unwanted activity by notifying the on-duty staff in real time. For more information, visit eyewatchlive.com.
This event is hosted by Seniors Housing Business magazine and produced by the company's InterFace Conference Group. For more information, contact Eric Goldberg at 404-832-8262 x 137.
For a full list of InterFace Conference Group webinars, click here.
France Media Inc. is publisher of Seniors Housing Business, Student Housing Business, Southeast Real Estate Business, Texas Real Estate Business, Northeast Real Estate Business, Western Real Estate Business, Heartland Real Estate Business, Southeast Multifamily & Affordable Housing Business, Texas Multifamily & Affordable Housing Business, Western Multifamily & Affordable Housing Business, Midwest Multifamily & Affordable Housing Business, and Northeast Multifamily & Affordable Housing Business, Shopping Center Business, California Centers, and Retail & Restaurant Facility Business.
For more information about all of the commercial real estate magazines, websites, and newsletters published by France Media Inc., click here.