Webinar: Navigating the Future: Student Housing Year-End Data Analysis + Forecast
October 5 @ 2:00 pm

-

3:00 pm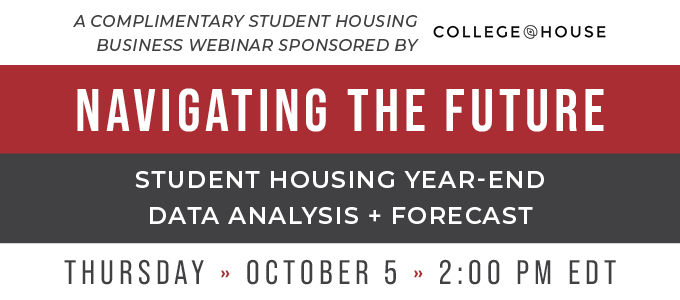 With steady growth and rising rental rates, fundamentals in the student housing sector are stronger than ever. However, there is no rest for student housing owners, developers and operators. The new academic year is in full swing, so that means it's time to focus on leasing for the 2024-2025 academic year as well as development plans for the future. Companies that are making the best decisions take time now to look at the data: what do the numbers tell us about the recent academic year, what is the forecast for the new year, and what is the best way to leverage this data?
On Thursday, October 5 at 2:00 pm EDT, Student Housing Business will host the webinar, "Navigating the Future: Student Housing Year-End Data Analysis + Forecast," discussing the importance of data to determine current and future trends in student housing and how to best use data to make well-informed decisions.
Please join the discussion as College House and other student housing industry executives share recent market data, offer predictions for the upcoming school year based on recent trends and data, and discuss how to leverage this data to make critical decisions related to the development and operations of student housing properties.
The discussion will cover:
Recent Leasing Cycle Data Analysis
Gain insights into the current state of student housing.
Explore key data points from the past year.
Discuss how external factors can influence the industry.
Forecasting Student Housing Trends
Predictions for the upcoming year based on the latest data and trends.
Potential challenges and exciting opportunities in the dynamic student housing market.
Leveraging Data for Strategic Decision-Making
Discover the critical role of data-driven decision-making in the student housing industry.
The importance of leveraging data to inform and enhance your strategic decisions.
Confirmed panelists include:
Jason Fort, EVP at Asset Living
Casey Petersen, COO of PeakMade Real Estate
Josh Troxel, Senior Principal at Walton Street Capital
Teddy Leatherman, Managing Director at JLL
Charlie Matthews, Founder & CEO at College House (Moderator)
This webinar is complimentary, thanks to sponsor College House. College House is a data aggregation and analytics platform that provides access to detailed, accurate and timely student housing market data and insights. College House collects data directly from student housing operators each week, so information is fresh and accurate at the floorplan level. To learn more, visit Collegehouse.com.
—
This event is hosted by Student Housing Business magazine and produced by the company's InterFace Conference Group. For more information, contact Tim Tolton at 404-832-8262 x 125.
For a full list of InterFace Conference Group webinars, click here.
France Media Inc. is publisher of Student Housing Business, Seniors Housing Business, Southeast Real Estate Business, Texas Real Estate Business, Northeast Real Estate Business, Western Real Estate Business, Heartland Real Estate Business, Southeast Multifamily & Affordable Housing Business, Texas Multifamily & Affordable Housing Business, Western Multifamily & Affordable Housing Business, Midwest Multifamily & Affordable Housing Business, and Northeast Multifamily & Affordable Housing Business, Shopping Center Business, California Centers, and Retail & Restaurant Facility Business.
For more information about all of the commercial real estate magazines, websites, and newsletters published by France Media Inc., click here.