InterFace Multifamily Southeast 2023
November 30 @ 7:15 am

-

3:30 pm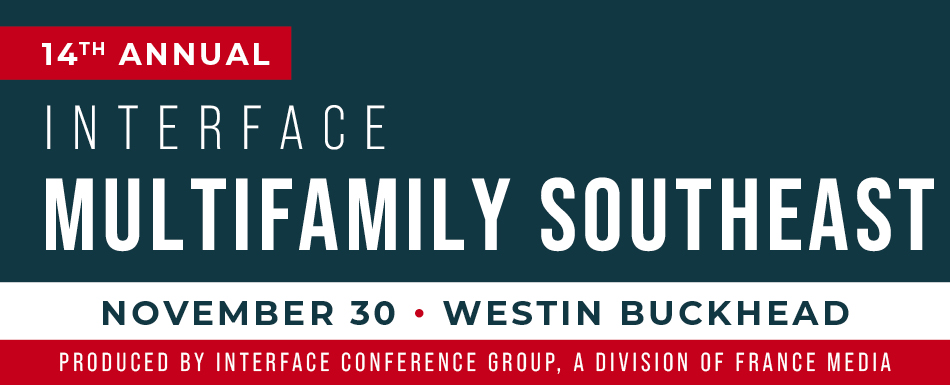 Join leading owners, investors, developers, and operators of multifamily properties across the Southeast, along with lenders, intermediaries, architects, and contractors for the 14th annual InterFace Multifamily Southeast conference on November 30th.
This event will focus on Georgia, Florida, Tennessee, Alabama, North Carolina and South Carolina apartment markets, which are generally still performing well from an occupancy and rental rate standpoint. But there are no shortage of challenges facing owners, investors and developers right now. A big focus of discussion will be how still-rising interest rates and a paralyzed debt market are severely impacting the investment and development markets.
There are more questions than answers about today's market, and this year's event will offer a wealth of much-needed industry information and insight, as well as high-level networking. If you are active in the multifamily property sector in the Southeast, you need to attend the 14thannual InterFace Multifamily Southeast conference!
InterFace Multifamily Southeast is hosted by France Media's Southeast Real Estate Business, Southeast Multifamily & Affordable Housing Business and Student Housing Business magazines, along with the company's InterFace Conference Group.
TOPICS TO BE DISCUSSED
When will the investment market recover and deals start transacting?
Who is buying in today's market? Who is selling?
Where are cap rates headed?
How are developers overcoming interest rate and debt market challenges to create new product?
How is the SFR/BTR market faring in today's environment?
What is the big picture outlook for the economy?
The capital markets are frozen—what is needed for them to thaw and for debt capital to once again become available?
What new capital sources are filling the void in the capital stack?
Are occupancy and rental rates remaining strong, or are concessions starting to re-appear?
What is new and trending in architecture, design and construction?
Concurrent sessions featuring deep dive on Atlanta and key Carolinas markets.
WHO IS PLANNING ON ATTENDING
Owners/Developers/Investors
Debt & Equity Capital Providers & Financial Intermediaries
Operators & Property Managers
Asset Managers & Fund Managers
Leasing & Marketing Specialists
Investment Sales Brokers
General Contractors, Architects & Engineers
Vendors & Service Providers to the Multifamily Industry
SUBSCRIBE TO EMAIL UPDATES FOR THIS EVENT
For information about speaking and sponsorship opportunities, contact Rich Kelley at 914-309-6954.
---
France Media Inc. is publisher of Shopping Center Business, California Centers, Retail & Restaurant Facility Business, Seniors Housing Business, Student Housing Business, Southeast Real Estate Business, Texas Real Estate Business, Northeast Real Estate Business, Western Real Estate Business, Heartland Real Estate Business, Southeast Multifamily & Affordable Housing Business, Texas Multifamily & Affordable Housing Business, Western Multifamily & Affordable Housing Business, Midwest Multifamily & Affordable Housing Business, and Northeast Multifamily & Affordable Housing Business.
For more information about all of the commercial real estate magazines, websites, and newsletters published by France Media Inc., click here.