Webinar: The Rise of TikTok — How Student Housing Operators Can Generate Leases with TikTok
July 20, 2022 @ 2:00 pm

-

3:00 pm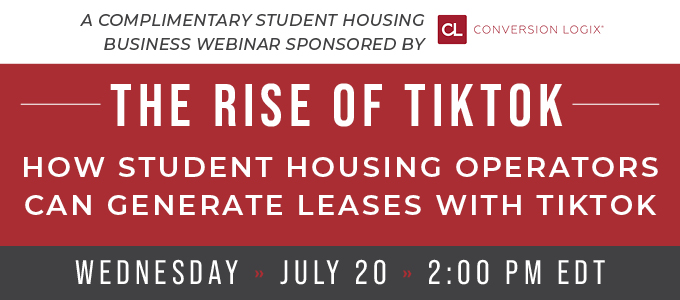 Once known for its dance videos and trendy challenges, TikTok has transcended its early beginnings to become a social media juggernaut. And there is an enormous opportunity in student housing to leverage TikTok's ad platform to extend reach and increase brand awareness for communities. Especially since just under half of the TikTok audience is in the 18-24 age bracket.
Student Housing Business will host a webinar, "The Rise of TikTok: How Student Housing Operators Can Generate Leases with TikTok," to share how operators can best use the platform to connect with prospective residents.
Join us on July 20th at 2:00 p.m. Eastern; the webinar is complimentary, thanks to sponsor Conversion Logix.
Webinar panelists will discuss:
Why: TikTok is a powerful emerging ad platform for student housing.
What: Benefits and differences between organic and sponsored posts.
How: TikTok's ad targeting options leverage social media behavior compliant with Fair Housing.
How: TikTok ads positively affect all marketing campaigns with low barriers to entry.
Why: We're excited about the future of TikTok's ad platform.
Speakers include Andrew Cederlind, President and COO, Conversion Logix; Crystal Banegas, Sales Account Manager, Conversion Logix; and Jake Jarman, President, Redstone Residential, Inc.
Find out how TikTok can help owners and operators generate leases and get heads in beds in this complimentary webinar!
Webinar sponsor Conversion Logix is a marketing and technology company dedicated to generating leads, appointments, and sales for multifamily housing operators.
For more information visit, conversionlogix.com.
—
This event is hosted by Student Housing Business magazine and produced by the company's InterFace Conference Group. For more information, contact Rich Kelley at 914-309-6954

For a full list of InterFace Conference Group webinars, click here.
France Media Inc. is publisher of Student Housing Business, Seniors Housing Business, Southeast Real Estate Business, Texas Real Estate Business, Northeast Real Estate Business, Western Real Estate Business, Heartland Real Estate Business, Southeast Multifamily & Affordable Housing Business, Texas Multifamily & Affordable Housing Business, Western Multifamily & Affordable Housing Business, Midwest Multifamily & Affordable Housing Business, and Northeast Multifamily & Affordable Housing Business, Shopping Center Business, California Centers, and Retail & Restaurant Facility Business.
For more information about all of the commercial real estate magazines, websites, and newsletters published by France Media Inc., click here.