Webinar: Student Housing Demand — 2022 Review & 2023 Outlook
November 2, 2022 @ 2:00 pm

-

3:00 pm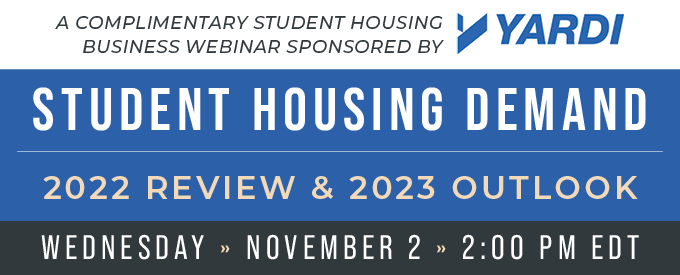 In 2021, student housing investment transactions climbed to record heights as investors recognized the resilience in student housing. How does 2022 deal volume compare? How are enrollments trending in both private and public schools — and what is the anticipated impact on student housing in 2023? Where are the current opportunities for growth in student housing?
Today's student housing investors and underwriters have access to a vast amount of data related to valuations, enrollment trends, leasing and pre-leasing metrics. What are the most important trends — and what is the outlook for the student housing sector?
On November 2nd at 2:00 p.m. Eastern, Student Housing Business magazine will host a webinar, "Student Housing Demand — 2022 Review & 2023 Outlook." The webinar is complimentary, thanks to sponsor Yardi.
The webinar will cover:
The latest student housing enrollment data in both the private and public sectors
An update on student housing fundamentals: pre-leasing, rent growth, supply, and investment sales transactions
Recent merger & acquisition activity, off-campus comparisons and long-range development opportunities
The Yardi Matrix 2023 Student Housing Forecast
Panelists include Jeff Adler, vice president with Yardi Matrix, and Ron Brock Jr., industry principal with Yardi Matrix.
If you are looking for the latest data and information on enrollment and leasing trends in both the private and public sector of student housing, this webinar is a must-attend event!
Yardi Matrix offers the industry's most comprehensive market intelligence tool for investment professionals, equity investors, lenders and property managers who underwrite and manage investments in multifamily, student housing, industrial, office and self-storage property types. The company provides nationwide market and institutional research reports that leverage property-level details of multifamily properties. For more information, visit www.yardimatrix.com.
—
This event is hosted by Student Housing Business magazine and produced by the company's InterFace Conference Group. For more information, contact Tim Tolton at 404-832-8262 x 125.

For a full list of InterFace Conference Group webinars, click here.
France Media Inc. is publisher of Student Housing Business, Seniors Housing Business, Southeast Real Estate Business, Texas Real Estate Business, Northeast Real Estate Business, Western Real Estate Business, Heartland Real Estate Business, Southeast Multifamily & Affordable Housing Business, Texas Multifamily & Affordable Housing Business, Western Multifamily & Affordable Housing Business, Midwest Multifamily & Affordable Housing Business, and Northeast Multifamily & Affordable Housing Business, Shopping Center Business, California Centers, and Retail & Restaurant Facility Business.
For more information about all of the commercial real estate magazines, websites, and newsletters published by France Media Inc., click here.