Webinar: Student Housing Case Study — Partnering with a Custom Furniture Fabricator Brings a Vision to Life
March 28 @ 2:00 pm

-

3:00 pm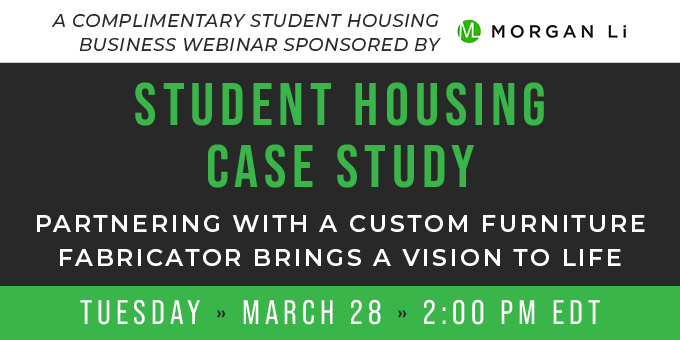 Optimizing student housing spaces is a challenge. Learn how a developer, designer, and a furniture fabricator partnered on recent projects to create unforgettable student living spaces.
On Tuesday, March 28th at 2:00PM EDT, discover how a partnership between Core Spaces, Roomy and Morgan Li brought a vision to life for their recent Hub and ōLiv locations.
Mitchell Dalton, chief innovation officer with Core Spaces; Diana Lu Barabe, Co-founder of Roomy; Andy Rosenband, CEO of Morgan Li; and Jonathan Rosenband, president of Morgan Li, will share how their companies worked together — from development to installation of custom furniture — to create more value and ensure a better experience for student residents.
The discussion will cover:
The visions for Core Spaces' projects and how the visions differ from what's currently available
The goals for the design and how modularity and finish play a role in furniture
Why is build-to-spec furniture becoming popular and what are the benefits?
Leveraging domestic and import production capabilities to tackle freight & supply chain issues
In today's housing environment, experience is everything — and every detail matters.
This webinar is complimentary, thanks to sponsor Morgan Li, which specializes in custom design, fabrication and installation of fixtures, furniture and graphics. Family-owned and operated, Morgan Li has millions of square feet of global production space, offices throughout the United States and Asia, and clients around the world.
—
This event is hosted by Student Housing Business magazine and produced by the company's InterFace Conference Group. For more information, contact Tim Tolton at 404-832-8262 x 125.
For a full list of InterFace Conference Group webinars, click here.
France Media Inc. is publisher of Student Housing Business, Seniors Housing Business, Southeast Real Estate Business, Texas Real Estate Business, Northeast Real Estate Business, Western Real Estate Business, Heartland Real Estate Business, Southeast Multifamily & Affordable Housing Business, Texas Multifamily & Affordable Housing Business, Western Multifamily & Affordable Housing Business, Midwest Multifamily & Affordable Housing Business, and Northeast Multifamily & Affordable Housing Business, Shopping Center Business, California Centers, and Retail & Restaurant Facility Business.
For more information about all of the commercial real estate magazines, websites, and newsletters published by France Media Inc., click here.