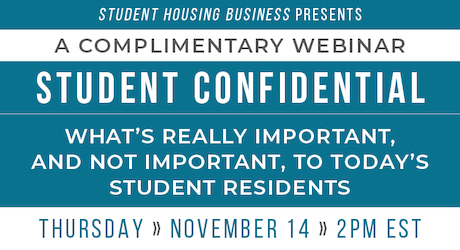 University Furnishings and Student Housing Business brought together several college students for a no-holds-barred discussion of their housing experience.
What do students want from their housing? Participants discussed the good, the bad and the ugly — beginning with their experience searching for a new place to call home, and covering everything that happens until move out. This webinar offers the authentic perspectives of today's college student
Special Bonus: How do most students find their apartments? This is included in the nationwide survey results revealed during the webinar that was recorded in November 2019.
Replay On Demand
For a full list of InterFace Conference Group webinars, click here.
—
Student Housing Business is published by France Media Inc., the parent company of InterFace Conference Group. For more information about all of the commercial real estate magazines, websites and newsletters published by France Media Inc., click here.