Webinar: Seniors Housing — Using Technology to Reduce Operational Costs & Enhance the Resident Experience
September 22, 2021 @ 1:00 pm

-

2:00 pm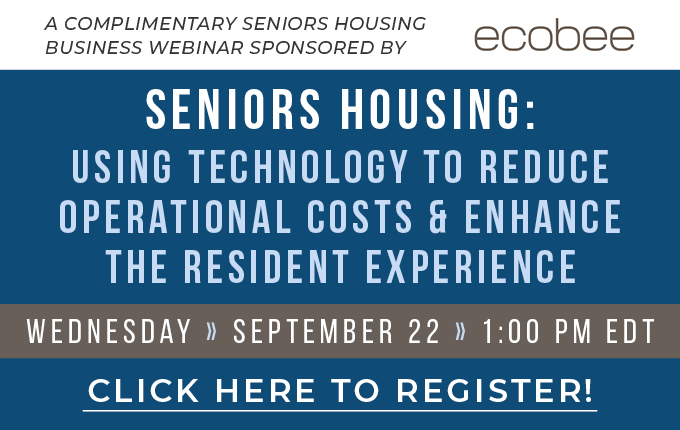 In the last 18 months, seniors housing communities have been faced with many challenges, including higher operating expenses, staffing shortages and new requirements for infrastructure upgrades. As a result it has never been more important to reduce expenses and keep residents happier and more comfortable in their homes.
Smart thermostats are a perfect solution. Leveraging the intelligence of these powerful devices will lead to savings in operational costs and energy usage through features such as remote scheduling and occupancy detection.
Learn more in a complimentary webinar taking place Wednesday, September 22nd, at 1 pm eastern. This webinar, "Using Technology to Reduce Operational Costs & Enhance the Resident Experience," is sponsored by Ecobee.
Topics will include:
Managing the pressure of operating in today's environment of high operational costs and other current challenges
Insights from Connected Living on technology trends in seniors housing and examples from their Inspir Carnegie Hill project in New York City
Insights from Fellowship Square-Mesa on how they are using technology to increase staff efficiency and provide a delightful experience for seniors
How ecobee SmartBuildings and Smart Thermostats allow properties to greatly reduce energy bills and reduce unnecessary staff visits
How ecobee can keep seniors happier by enabling them to control their own comfort with voice control
This discussion about the seniors housing is sponsored by Ecobee.
Ecobee is a Canadian home automation company that makes smart thermostats, temperature and occupancy sensors, smart light switches, smart cameras, and contact sensors. To learn more about Ecobee, visit
www.ecobee.com
.
France Media's Seniors Housing Business magazine is hosting the panel discussion.
—
This event is hosted by Seniors Housing Business magazine and produced by the company's InterFace Conference Group. For more information, contact Rich Kelley at 914-309-6954.

For a full list of InterFace Conference Group webinars, click here.
France Media Inc. is publisher of  Seniors Housing Business, Student Housing Business, Southeast Real Estate Business, Texas Real Estate Business, Northeast Real Estate Business, Western Real Estate Business, Heartland Real Estate Business, Southeast Multifamily & Affordable Housing Business, Texas Multifamily & Affordable Housing Business, Western Multifamily & Affordable Housing Business, Shopping Center Business, California Centers, and Retail & Restaurant Facility Business.
For more information about all of the commercial real estate magazines, websites, and newsletters published by France Media Inc., click here.