Webinar: No Crystal Ball… But Let's Talk About the Outlook for Seniors Housing Investment and Finance
October 11, 2022 @ 2:00 pm

-

3:00 pm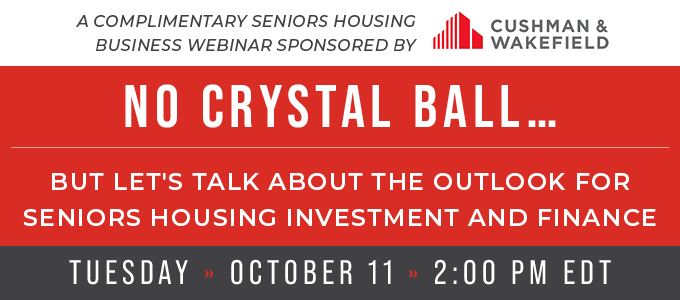 With interest rates on the rise, questions abound on the effects on the senior housing sector. On Tuesday, October 11th at 2:00 pm EDT, Seniors Housing Business will host the webinar "No Crystal Ball… But Let's Talk About the Outlook for Seniors Housing Investment and Finance" to address the pressing questions about the impact of rate hikes on the investment, development and financing markets.
Our hour-long panel-style discussion will focus on answering the following questions and dive into these top-of-mind topics:
How have the recent interest rate increases impacted senior housing valuations? Do they differ by the various types of senior housing (active adult, assisted living, etc.)?
From a financing perspective, which assets are more or less financeable as inflation and interest rates move higher? How have these valuation fluctuations impacted deal flow and closings?
What's on the horizon for 2023? Where are the bright spots?
Expert panelists from Cushman & Wakefield, Greystone, Phoenix Senior Living and Harrison Street make this webinar a can't-miss opportunity for anyone looking for a crystal-clear view into the future of seniors housing investment and financing.
Panelists: Rick Swartz, Vice Chairman, Cushman & Wakefield; Chris Clare, Managing Director, Greystone; Elliot Pessis, Managing Director, Harrison Street; Jesse Marinko, CEO, Phoenix Senior Living.
This complimentary webinar is sponsored by Cushman & Wakefield. France Media's Seniors Housing Business magazine is hosting the panel discussion.
This discussion is sponsored by Cushman & Wakefield, which is a global commercial real estate services firm. Cushman & Wakefield is among the world's largest commercial real estate services firms.
For more information visit, https://www.cushmanwakefield.com

—
This event is hosted by Seniors Housing Business magazine and produced by the company's InterFace Conference Group. For more information, contact Rich Kelley at 914-309-6954.

For a full list of InterFace Conference Group webinars, click here.
France Media Inc. is publisher of Student Housing Business, Seniors Housing Business, Southeast Real Estate Business, Texas Real Estate Business, Northeast Real Estate Business, Western Real Estate Business, Heartland Real Estate Business, Southeast Multifamily & Affordable Housing Business, Texas Multifamily & Affordable Housing Business, Western Multifamily & Affordable Housing Business, Midwest Multifamily & Affordable Housing Business, and Northeast Multifamily & Affordable Housing Business, Shopping Center Business, California Centers, and Retail & Restaurant Facility Business.
For more information about all of the commercial real estate magazines, websites, and newsletters published by France Media Inc., click here.