Webinar: Modernizing Seniors Housing Care — Simplifying Workflows for Caregivers through Technology
September 8, 2022 @ 2:00 pm

-

3:00 pm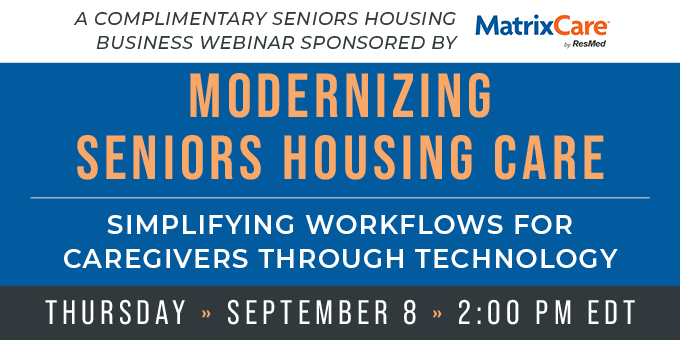 As the acuity care needs of senior living residents rise, so does the need for more efficient workflows and better outcomes. Technology can help simplify both of these areas, by providing customizable data that highlight changes in condition and quality of care, and by informing residents' families about the care their loved ones are receiving.
On September 8, at 2:00 pm Eastern, Seniors Housing Business magazine will host a webinar exploring how technology is helping to improve senior care across the country. Webinar attendees will learn about the latest innovations in care transition management and preventive healthcare.
Topics will include:
The latest trends in technology-enabled senior care
How technology can help simplify workflows and improve care transitions
The importance of involving families in the care planning process
How to implement technology solutions to support these goals
Panelists include Amy Ostrem, Vice President, Strategy & Portfolio Management, MatrixCare; Cassie Diner, Clinical Product Manager, MatrixCare; Kelly Danielson, Clinical Product Manager, MatrixCare
This discussion is sponsored by MatrixCare, an industry-leading provider of post-acute EHR to facility-based care settings and home care/home health and hospice organizations.
For more information visit, https://www.matrixcare.com.

—
This event is hosted by Seniors Housing Business magazine and produced by the company's InterFace Conference Group. For more information, contact Eric Goldberg at 404-832-8262 x 137.

For a full list of InterFace Conference Group webinars, click here.
France Media Inc. is publisher of Student Housing Business, Seniors Housing Business, Southeast Real Estate Business, Texas Real Estate Business, Northeast Real Estate Business, Western Real Estate Business, Heartland Real Estate Business, Southeast Multifamily & Affordable Housing Business, Texas Multifamily & Affordable Housing Business, Western Multifamily & Affordable Housing Business, Midwest Multifamily & Affordable Housing Business, and Northeast Multifamily & Affordable Housing Business, Shopping Center Business, California Centers, and Retail & Restaurant Facility Business.
For more information about all of the commercial real estate magazines, websites, and newsletters published by France Media Inc., click here.