Webinar: Meeting the Critical Need for Affordable Seniors Housing
February 15 @ 2:00 pm

-

3:00 pm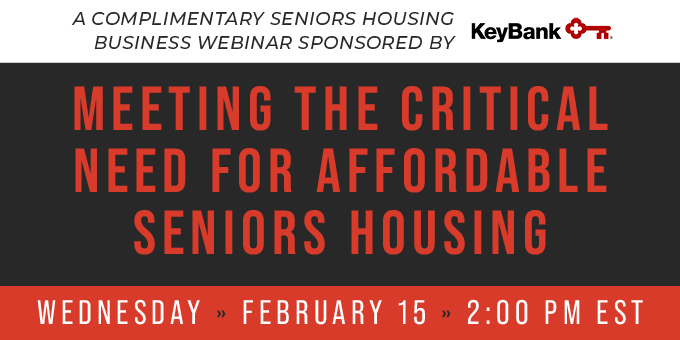 According to the National Council on Aging, more than 15 million Americans aged 65 and over are economically insecure. Many of these individuals will be unable to pay market rates for seniors housing. Meanwhile, rising costs, higher interest rates and supply chain issues are complicating the development of new seniors housing projects at a time when demand already exceeds supply.
In this challenging environment, how can seniors housing owners and operators tailor and operate projects that provide affordable seniors housing and meet the needs of a vulnerable older population?
On February 15th, 2023, from 2 pm to 3 pm EST, Seniors Housing Business will host a panel of experts to address that question. The webinar, "Meeting the Critical Need for Affordable Seniors Housing," will be moderated by Victoria O'Brien, head of LIHTC equity acquisitions at KeyBank Community Development Corporation, and feature panelists Diana DiPreta, SVP of Development Finance at Beacon Communities, and Joe Mulligan, managing director at Cain Brothers.
DiPreta, Mulligan and O'Brien will discuss:
· The ins and outs of Low Income Housing Tax Credit (LIHTC) projects
· State programs and resources for senior housing developers
· Community engagement and connecting with local service providers
KeyBank Real Estate Capital is a leading provider of commercial real estate financing solutions on both a corporate and project basis. The group provides interim and construction financing, permanent mortgages, commercial real estate loan servicing, investment banking and cash management services for all types of income-producing commercial real estate. As a Fannie Mae Delegated Underwriter and Servicer, Freddie Mac Program Plus Seller/Servicer and FHA approved mortgagee, KeyBank Real Estate Capital offers a variety of agency financing solutions for multifamily properties, including affordable housing, seniors housing and student housing. KeyBank Real Estate Capital is also one of the nation's largest and highest rated commercial mortgage servicers.
This event is hosted by Seniors Housing Business magazine and produced by the company's InterFace Conference Group. For more information, contact Eric Goldberg at 404-832-8262 x 137.

For a full list of InterFace Conference Group webinars, click here.
France Media Inc. is publisher of Student Housing Business, Seniors Housing Business, Southeast Real Estate Business, Texas Real Estate Business, Northeast Real Estate Business, Western Real Estate Business, Heartland Real Estate Business, Southeast Multifamily & Affordable Housing Business, Texas Multifamily & Affordable Housing Business, Western Multifamily & Affordable Housing Business, Midwest Multifamily & Affordable Housing Business, and Northeast Multifamily & Affordable Housing Business, Shopping Center Business, California Centers, and Retail & Restaurant Facility Business.
For more information about all of the commercial real estate magazines, websites, and newsletters published by France Media Inc., click here.