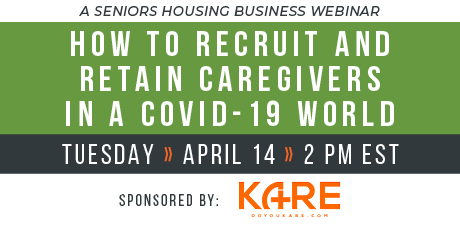 How are seniors housing operators overcoming staffing challenges related to COVID-19?
In good times, the seniors housing industry suffers from a labor shortage. In today's environment, every operator is grappling with how to keep their front line staff safe and in the workplace. And because many employees have kids at home and out of school, there are additional concerns for staff and operators.
On Tuesday, April 14, a panel of experts discussed how they are motivating seniors housing caregivers over the long run as the COVID-19 pandemic continues. This webinar also covers how seniors housing can capitalize on the disruptions in the broader labor market.
Also discussed:
Labor trends in the midst of coronavirus
How to hire and train seniors housing employees in a time of crisis
Do caregivers trust their employers? Results from a recent survey of 150 caregivers
What does the industry do about not being able to find enough caregivers during the COVID-19 pandemic?
Panelists:
Lori Alford, Chief Operating Officer, Avanti Senior Living
Keven Bennema, President & CEO, Charter Senior Living
Greg Roderick, President & CEO, Frontier Management
Charles Turner, CEO, Kare (moderator)
Listen to the webinar to learn more about how seniors housing operators recruit and retain caregivers in a COVID-19 world. Registration is only $79.
This event was sponsored by KARE and hosted by France Media's Seniors Housing Business magazine. For more information, contact Eric Goldberg at 404-832-8262.
For a full list of upcoming webinars, click here.
—
Seniors Housing Business is published by France Media Inc., the parent company of InterFace Conference Group. For more information about all of the commercial real estate magazines, websites and newsletters published by France Media Inc., click here.