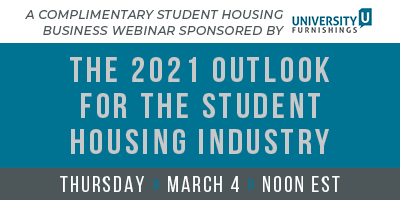 Student Housing Business magazine has assembled a stellar group of leading executives to discuss the outlook for the student housing industry in a webinar to take place Thursday, March 4, at 12 pm Eastern.
Topics to be discussed:
What's the outlook for student housing investment and development markets in 2021?
What will be the availability of financing and will more institutional capital flow into the space?
How are operations continuing to be impacted by COVID in the second semester?
What is the outlook for Fall 2021 leasing? And what's the situation likely to be next fall for on-campus housing?
Are P3s on hold or gaining momentum?
The webinar is complimentary for the industry and is sponsored by University Furnishings.
Webinar participants will include American Campus Communities CEO Bill Bayless; Harrison Street co-founder, chairman & CEO Christopher Merrill; Scion Group president Rob Bronstein; and Greystar senior managing director Cliff Chandler.
Webinar moderators will be Richard Kelley, publisher of Student Housing Business, and Randy Shearin, editor of Student Housing Business.
—
This event is hosted by France Media's Student Housing Business magazine and produced by the company's InterFace Conference Group. For more information, contact Rich Kelley at 914-309-6954.
For a full list of InterFace Conference Group webinars, click here.
Student Housing Business is published by France Media Inc., the parent company of InterFace Conference Group. For more information about all of the commercial real estate magazines, websites, and newsletters published by France Media Inc., click here.