Appointments
Video tutorials: 
These tutorials are based on a tour of the InterFace Seniors Housing virtual event hub. There may be some slight differences between different events, but the functionality is overall the same.
Step 1
Find login details for your event here:
Step 2
Sponsors/Exhibitors — To maximize your experience with the appointments module, these action items need to be completed by the admin of your company's custom page/virtual booth:
Complete the survey naming your company's appointment reps

This survey link is in the instructions emailed from Kelly Moustafa to the person setting up the company's custom page and the info is in the task list in the exhibitor portal. It should only be filled out once by the company.

Add onsite booth staff (not admins) in the exhibitor portal.

The people listed as "Onsite Booth Staff" in the exhibitor portal will be eligible to receive meetings when an attendee clicks "Request Appointment" in the company directory. See notes below.
All Conference Registrants, including sponsors & exhibitors — These action items need to be taken by each registrant:
Log into the portal (link in Step 1 above & instructions in Step 3 below) and block off any time that you are not available for appointments. (For example, if you want to attend the networking session or a specific roundtable, block off those times.) Above the calendar, change the dropdown to "Sessions – show all my sessions" to see the calendar of events and block off the times you're not available for appointments.
In the appointments module, above the calendar, click "Directory." This is a list of all the people you are able to invite to a virtual meeting. If you have sponsor/exhibitor access, you'll see all confirmed attendees. If you have attendee access you will only see the exhibitors. [If you only have attendee access but your company is a sponsor or exhibitor, then someone from your company must compete the survey referenced above so we can grant you exhibitor access to the appointment module.]
InterFace Seniors Housing Investment, Development & Operations is hosted on the Cvent platform. You may find this Cvent article helpful: https://support.cvent.com/apex/CommunityArticle?id=000066968
—
IMPORTANT note about Zoom links:
All appointments are scheduled using a Zoom link automatically created by the appointment module. When creating an appointment, please do NOT uncheck the option that says "Attendees can join this appointment virtually."
Step 3
Access the Appointments Module:
Using the event portal login URL found in Step 1 above, follow the instructions below.
When you login to the event portal, you'll get a verification code via email or via text, if you registered with a mobile number. Please check your inbox and then check clutter or spam folders — you'll be looking for an email from Kelly Moustafa to find your verification code.
On the "My Event" page, you'll see the "Looking to Network?" module. Click the "Schedule Appointment" button.
FAQ
Q1: How do I create an appointment?
At the top left, click the "Create Appointment" button.
Select "Attendees" or "Exhibitors" at the top left to choose whether you look at the list by attendee name or company name.
In the panel to the right, choose "Exhibitor 1:1 Appointments."
Add the attendee you wish to meet with.
Edit the "Time and Location" to suggest a meeting time (required to send the invitation).
Make sure the box is checked for "Virtual Access / Attendees can join this appointment virtually." (This allows the system to create a Zoom link for the meeting.) Do NOT uncheck this box.
Add a subject line
Add a description. (Best practices: include a brief description of your company & request a meeting. You may wish to include your contact info so that the recipient can follow up with you outside of the appointment module or at a later date.)
See screenshot below.
Emails will appear to come from the name of the person sending the invitation or responding/accepting/declining, but these are from the Cvent portal and you CANNOT reply directly to the emails. All messages need to go through the appointments module.
Emails should come to your inbox, but watch your junk & clutter folders.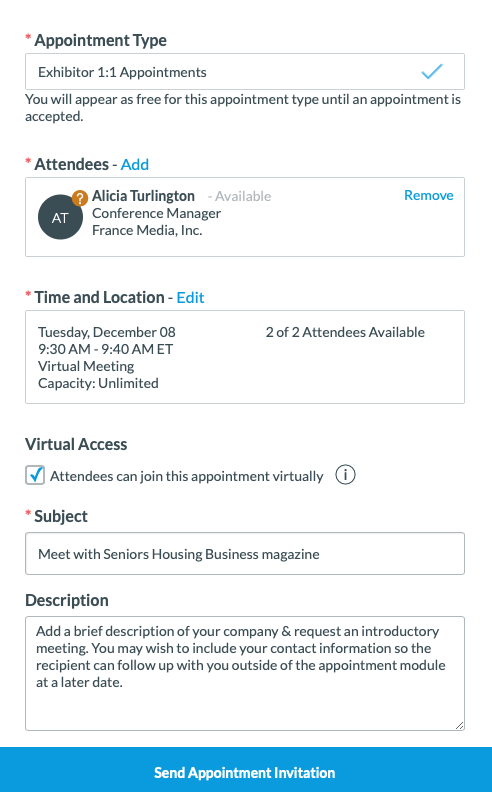 When you click on a meeting within your calendar view in the appointment module,  you will see the event details, including a "Join" button so that you can click to enter the Zoom meeting, as well as the meeting ID and password if you need to enter those. See screenshot below.
You can also add the event to your personal/work calendar and set a reminder this way by clicking the "Add to Personal Calendar" button.
—
Q2: Why doesn't my company have a "Request Appointment" button?

When you click Directory > Exhibitors, you'll see a list of companies. Some companies have a "Request Appointment" button. These sponsors/exhibitors have added the at least one employee as onsite booth staff when setting up their custom pages in the exhibitor management portal and completed the form so that we have granted this person exhibitor access in the appointment module. If your company does not have a "Request Appointment" button, the marketing person/admin who has the login to update your company's custom page/virtual booth can update this.
This is the tile in the exhibitor management portal where you add onsite staff: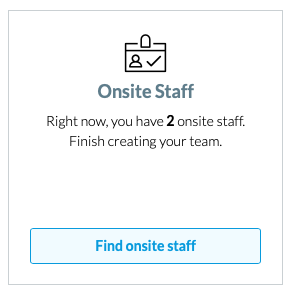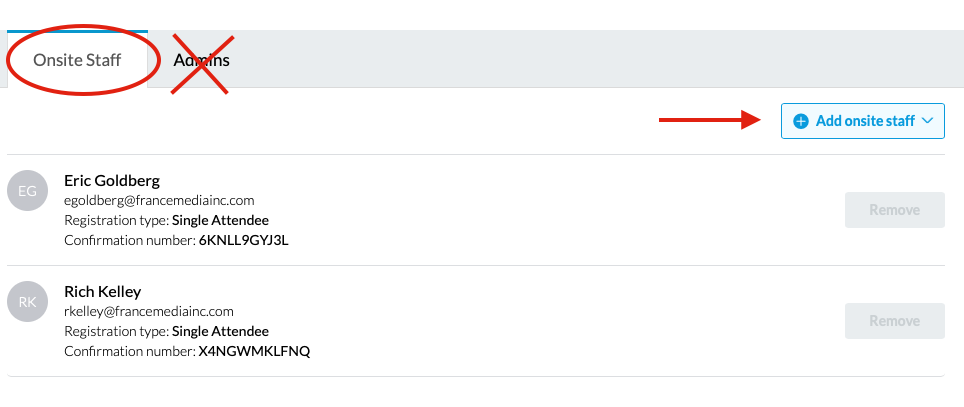 —
Q3: I don't think I'm seeing all attendees. What's wrong?
Please note that you will not be able to see your own name in the attendee list. This is because you can only see people that are available for meetings. Since you cannot make appointments with yourself, your own name will not display.
You may only be seeing exhibitors. People with attendee access will ONLY see sponsor/exhibitor names listed in the portal because these are the only people they can reach out to.
Sponsors/exhibitors can see the full attendee list. (List includes person name & company name. No contact details.) But you will only have sponsor/exhibitor access if the person we've been working with on your virtual booth/custom page has filled out the survey referenced in Step 2 above. (We need 1 business day after we receive the survey to update access.)
If you need sponsor/exhibitor access, reach out to the marketing person at your company/whoever handles your booth registration to make sure they have filled out the form referenced above in Step 2 above. However, keep in mind that access is limited to the same number of comps that you receive for your exhibitor/sponsorship package. If your package includes 3 complimentary tickets, your company can have 3 employees with sponsorship access.
You can invite more than one person to a meeting via the appointments module. Just click both names when adding people to the invite. (Helpful if you want to meet with two people at one company, for example.)
—
Q4: I am a new exhibitor/sponsor and don't have proper access in the appointment module.
If you have recently signed a contract as a sponsor/exhibitor, it can take a couple of days to get all the settings coordinated. Please reach out to Kelly Moustafa to confirm all info has been received.
—
Q5: I am a booth admin and I'm not sure where to start.
Please look for a previous email from Kelly Moustafa (kmoustafa@francemediainc.com). The subject line should be "Welcome to [event name]."
On that email, click the "Log In" button and follow the instructions in the task list within the exhibitor management portal to upload content to your sponsor/exhibitor page.
NOTE: The login for the exhibitor management portal (where you upload content to your sponsor/exhibitor page) is NOT the same login URL that attendees use to access the event portal. You will need 2 separate logins and URLs if you are both building out your booth and attending the conference/scheduling appointments.
—
Q6: Can I reassign appointments to a co-worker? 
Not directly. You cannot edit an appointment you have received to add another person within the appointment module itself. You can add the meeting to your own work calendar and add someone to that invite and it will include the meeting details (link or phone number) and you can both call in to talk with a third party. We will post PDFs with screenshots in the Help Desk within the event hub, so check there for more details.
—
Q7: Will there be a training session for exhibitors?
If you need help adding content to your company's page or signing in to the exhibitor portal, contact Kelly Moustafa.
We do not provide training support for using Zoom; you may find this video on Zoom Controls helpful but it is likely not necessary for one-to-one meetings.